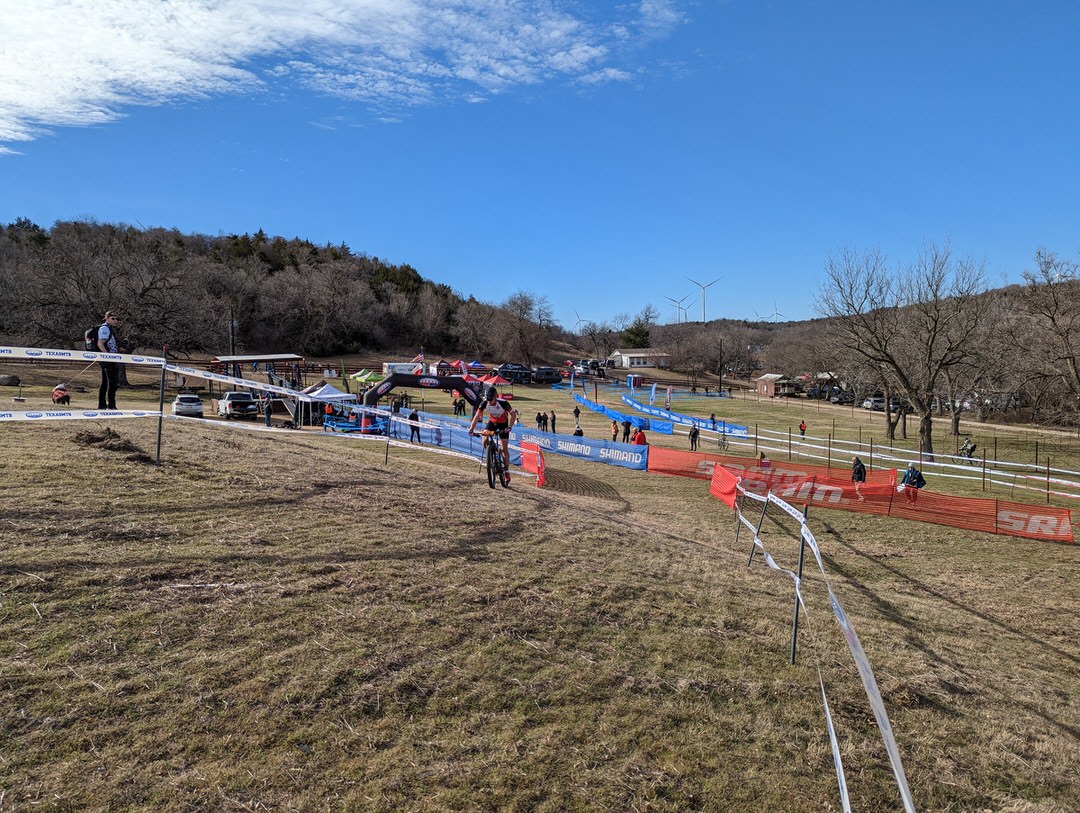 Prepare for a new type of school sport
---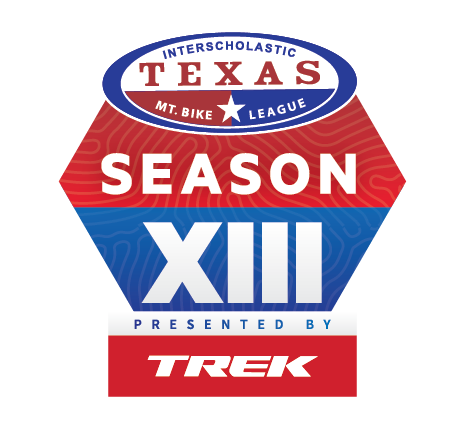 What is Mountain Biking?
NICA races are cross-country style mountain bike races. Courses consist of a loop of well-built single track as well as double-track sections. Courses offer a mix of terrain – from flowy trail to technical challenges – and each course is a bit different. Riders begin each race in a "mass start" and ride a predetermined number of laps depending on their grade (for middle schoolers) or ability (for high schoolers). First person to cross the finish line is the fastest – but all riders are guaranteed the reward of fun!
It's not limited to a leisurely spin on a Saturday afternoon, either. A professional sport since 1990, the UCI Mountain Biking World Cup is the pinnacle of cross-country mountain bike racing and sees the best riders in the world compete on some of the planet's most technically demanding courses.
You may also be interested in knowing that more and more colleges and universities are offering cycling scholarships for athletes!

What does the TX NICA season look like?
Off-season
May-October
This is a great time to carry the momentum from the season into recruiting. It is also a good time for coaches and students to let their bodies and minds reset.
Some of the more serious athletes continue racing TMBRA and other events in the off-season on their own.
Other students take on other sports that help balance out the body and help prevent burnout and overtraining.
Pre-season
October-January
Starting in October you will see NICA activities start popping up – These often start with team recruitment, fundraising and team kick-off meetings.
Coaches begin registering riders in Pit Zone and collecting size information for t-shirts, jerseys, etc.
Team practices can begin November 1.
Race-season
January-May
Practices should be in full-swing a few times a week and the racing season begins!
Race weekends are family-friendly and often younger siblings and grandparents even come along!
---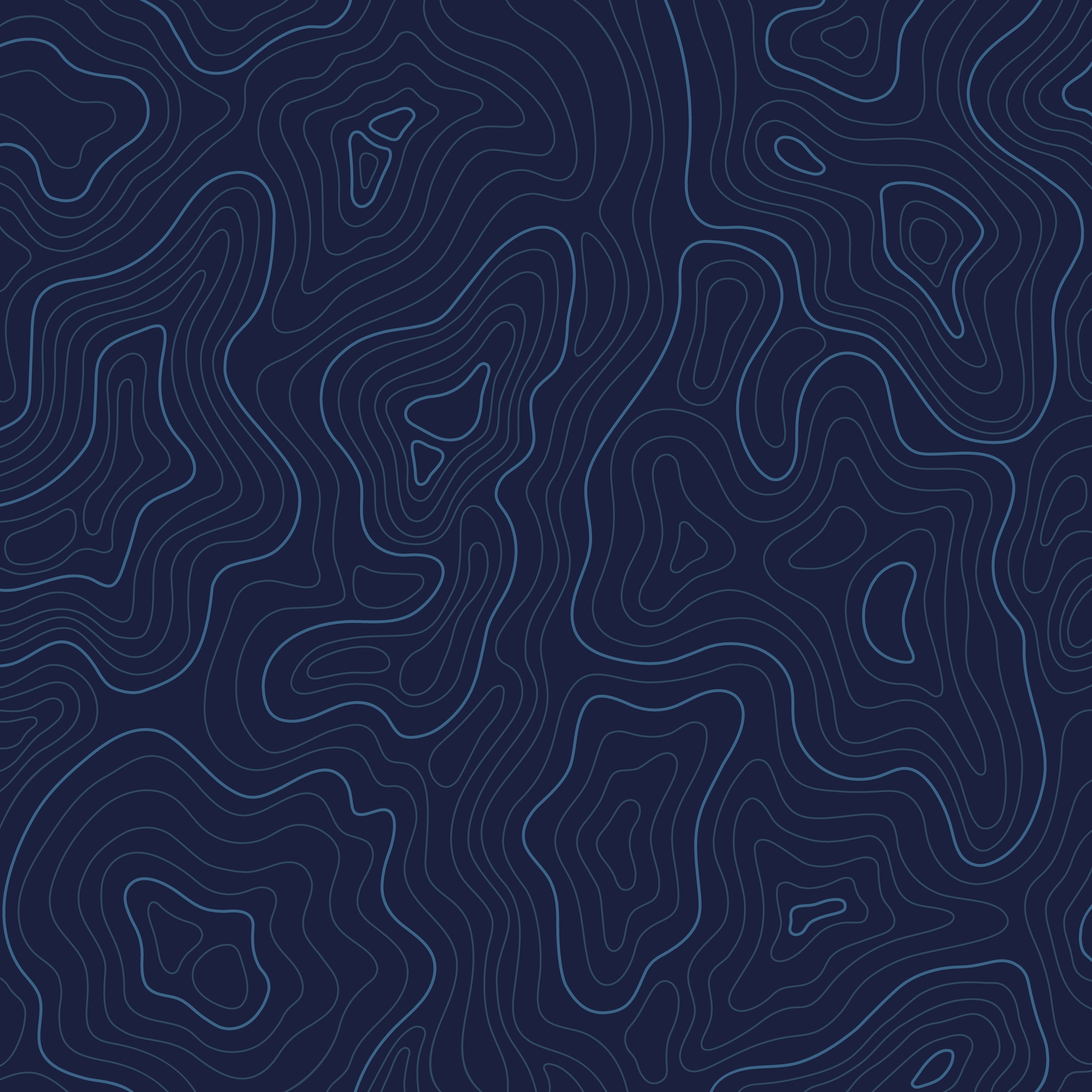 Equipment for Student-athletes
Getting your student athlete started can be intimidating! How do you know what to buy? How expensive are the bikes!? Where do you start? We've created a handy guide to help you figure out what's best for on the bike and on the biker!
One of the first purchases you may encounter is choosing a bike for your student. There is a lot of information to comb through and one of the biggest choices is full suspension vs. hardtail bike. Check out the video below to learn more and know that a hardtail mountain bike is a perfectly capable bike for our XC race courses.
---
What does a race weekend look like?
Each race has its own informational page with details for each event. Make sure to check these regularly and read them carefully – they often have rules about camping, whether or not you can bring your dog, or any weather updates.
Weekend camping is not required. Many families travel to and from home or stay in hotels.
Who can race?
Any rider who is fully registered in NICA's PitZone, barring coach discretion (i.e. rider lacks safe riding skills/safe equipment) can participate in Texas League races.
What do you mean by "race weekend?" Is a race really that long?
Race events take place over a full weekend (see below for detailed schedules) but the race itself takes place on Sunday.
How long is each race?
Each race course is approximately five miles of mixed terrain. All middle schoolers ride one lap, Freshman rides 2 laps, JV2 rides 2 laps, JV1 rides 3 laps, and Varsity rides 4 laps. Depending on a rider's ability typical event times are:
Less than 45 minutes for Middle School boys and girls
Less than 75 minutes for High School categories
Less than 90 minutes for Varsity. 
My rider isn't sure that they want to race. Should we register?
We strongly encourage all team members to attend as many NICA races as they can, even if they don't personally choose to race. If your rider wants to experience the course without the competition, they can choose the Fun Lap option. This allows them to still pre-ride the course, hang out with their teammates, and cheer/provide team support. Additionally, each race weekend hosts a GRiT (Girls Riding Together) ride, which is open to all female riders, regardless of their race status. If your rider is new to the sport, come to one of the early-season races to experience the fun. A lot of the time, the energy and excitement of the race is enough to motivate even the most timid riders to jump into the mix!
How do I register an athlete for a race?
Go to Pit Zone and sign in. Click on the button that says "Register [RIDER NAME] for Events". Select the race(s) you want to register for by placing a checkmark on that row, and click on the "update order and continue" button. You can register for one race at a time, or for multiple races. For the 2023-24 season, each race costs $50. If you purchased the Season Pass ($180) option, your rider is registered for all of the races for the season! 
What are the racing categories/age groups?
Riders are categorized by grade for middle schoolers and ability for high schoolers. Rider categories progress as follows: Grade 6, Grade 7, Grade 8, Freshman, JV2, JV1 and Varsity. There are separate male and female sub-categories for the aforementioned categories. Riders may petition to move categories (i.e. a fast, experienced sophomore may petition the league to enter the Varsity category) but this is rare.
Friday
League staff and volunteers come out early to set up the venue/course! This can include putting out course tape, setting up infield and even doing a bit of trail maintenance.
Many teams start showing up on Friday to get their campsites.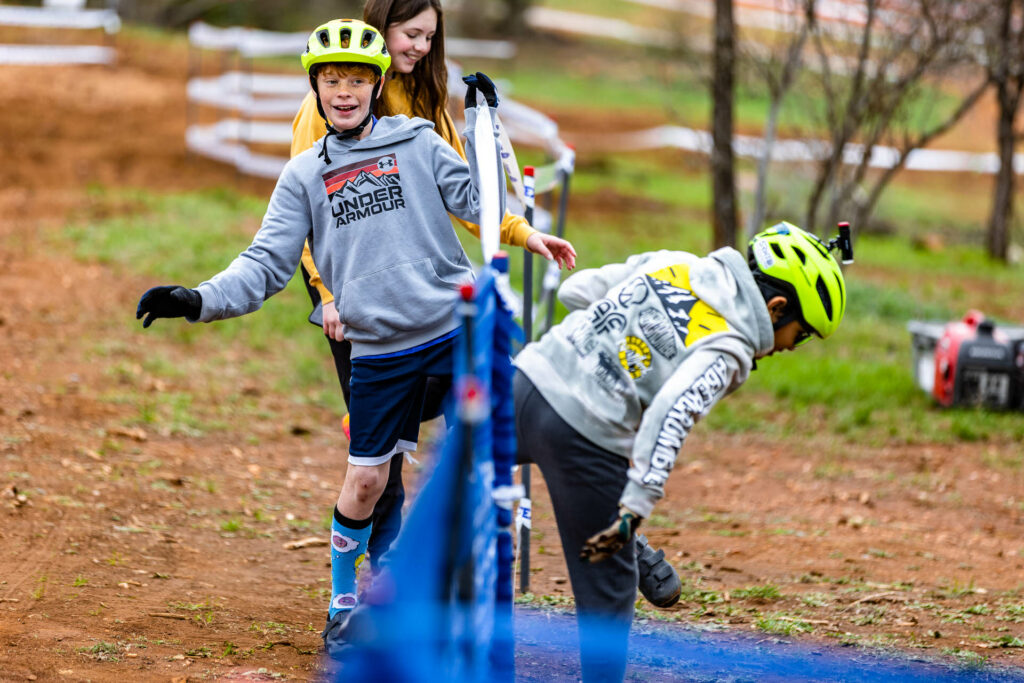 Saturday
Your student's team will have a pre-determined pre-ride time. This is where the coaches take the students out to preview the course.
There are numerous non-race related activities throughout Saturday including a GRiT ride where any female interested in trying out the sport can join in for a lap!
Many teams coordinate group meals for the weekend. Look for communications from your team on what that might look like for you.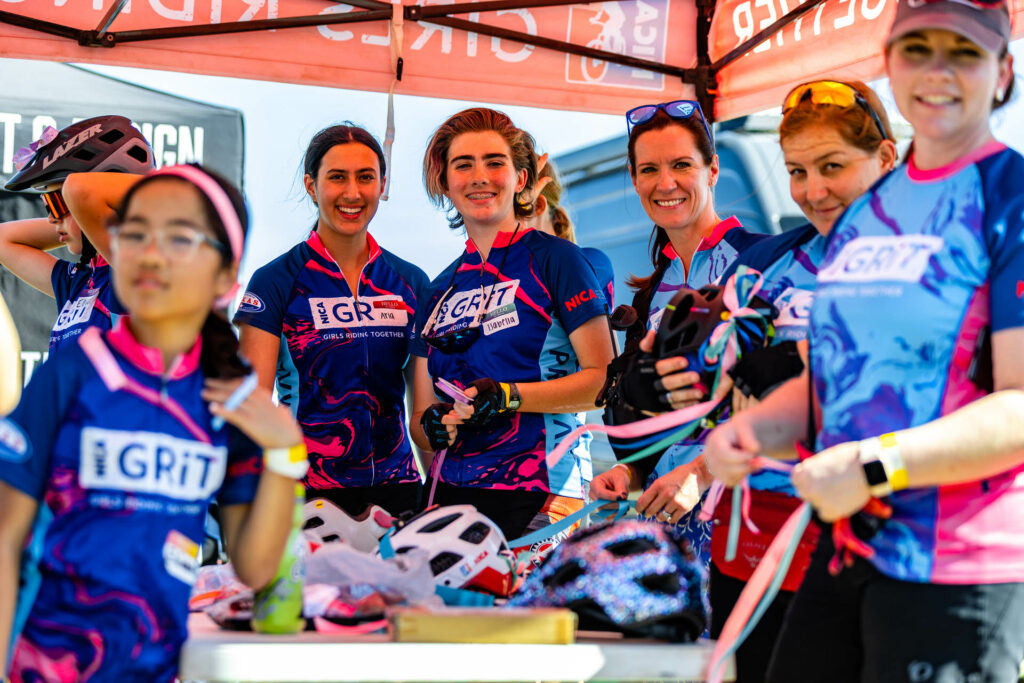 Sunday
Racing starts early and runs throughout the day. The league does its best to keep our races spectator friendly so you can see your student in action!
There are numerous volunteer opportunities that include being out on course (course marshaling) or helping at the finish line.
Podiums/awards happen after all of the infield is taken down! The more hands on deck we have to help, the sooner we can have awards.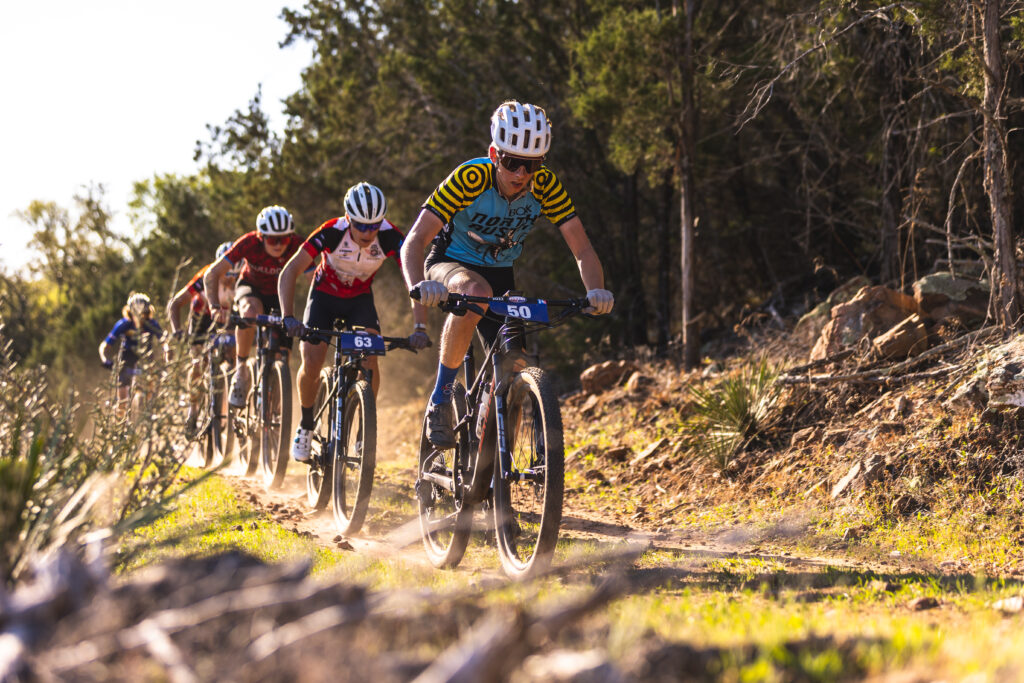 Where do riders stay during race weekends that are far from home?
NICA race venues offer a unique lodging opportunity for athletes and their families: camping! Camping is often recognized as one of the highlights of NICA race weekends by riders and families alike. The Texas League provides information for camping at each race venue. Those who wish to camp are responsible for knowing all of the rules and regulations associated with camping.
Access to the race venues is $15 per person for the entire weekend which also includes camping for the full weekend. (CASH is required for entry fees) or $10 for a single day. Some team members usually arrive Friday evening and mark out our team camping area. The location of the team campsite will be communicated through TeamSnap.
Of course, sleeping in a tent or RV might not be everyone's cup of tea – in that case, many families opt to find lodging at local hotels or via AirBnB, etc. – or, riders may choose to attend only one day of the race weekend and drive to/from the venue without adding lodging logistics.
It should be noted that NICA races are surprisingly large – several thousand people usually attend the events, which can cause a lodging shortage. Families are encouraged to plan ahead early in the season as lodging options will likely book up quickly. ONE TIME VENUE WAIVER (fill out once for the season)
What should I pack?
Riders are expected to be self-sufficient during their race weekend. Athletes need to be prepared for the weather (bring lots of clothing options!), possible mechanical issues (spare tires/tubes, CO2, bike levers, multi-tools, etc!), and changing course conditions. 
IMPORTANT: Don't forget your race kit (jersey) and race plate (given out at the first race)!!
Can we spectate, cheer, and take photos?
Absolutely! Spectators can get pretty serious about their cheering duties at NICA races – everything from cowbells to costumes are encouraged. Positive sporting attitude and enthusiasm are required! Spectating is different on each course – if you're not sure where to go, ask a veteran NICA family, or watch to see where other fans are flocking to cheer. It is important to be aware of the course/where you spectate at all times during the weekend, so that everyone stays safe. You are not allowed on the course at any time!
Are parents required to participate?
Required is a strong term… but yes, parents are expected to participate by volunteering with your team and/or with the league at each race. Quite literally: we cannot do it without you! There are a wide variety of roles to help out with and more details will come closer to each race.
Season Fees
The Texas NICA league is a youth development program that runs hosts events and programming throughout the year to help develop our student athletes. NICA fees help cover the costs of insurance, training, licensing and organization of coaches throughout the league.
Student Athlete Fees
NICA Fee – $40
Texas League Fee – $50
Race Fee – $50 / Race (or $180 for a season pass!)
Team Dues To be determined by each individual team.
Race Weekend Costs
Race weekend fees can vary – typically venues charge $10/person/day or $15/person/weekend. This fee includes camping and helps the league cover insurance, sanitation costs, etc.
Race weekends will sometimes include a food truck. Alternatively, most teams plan group meals to help reduce costs. Get with your team to see how you can help contribute.
---
Beyond Racing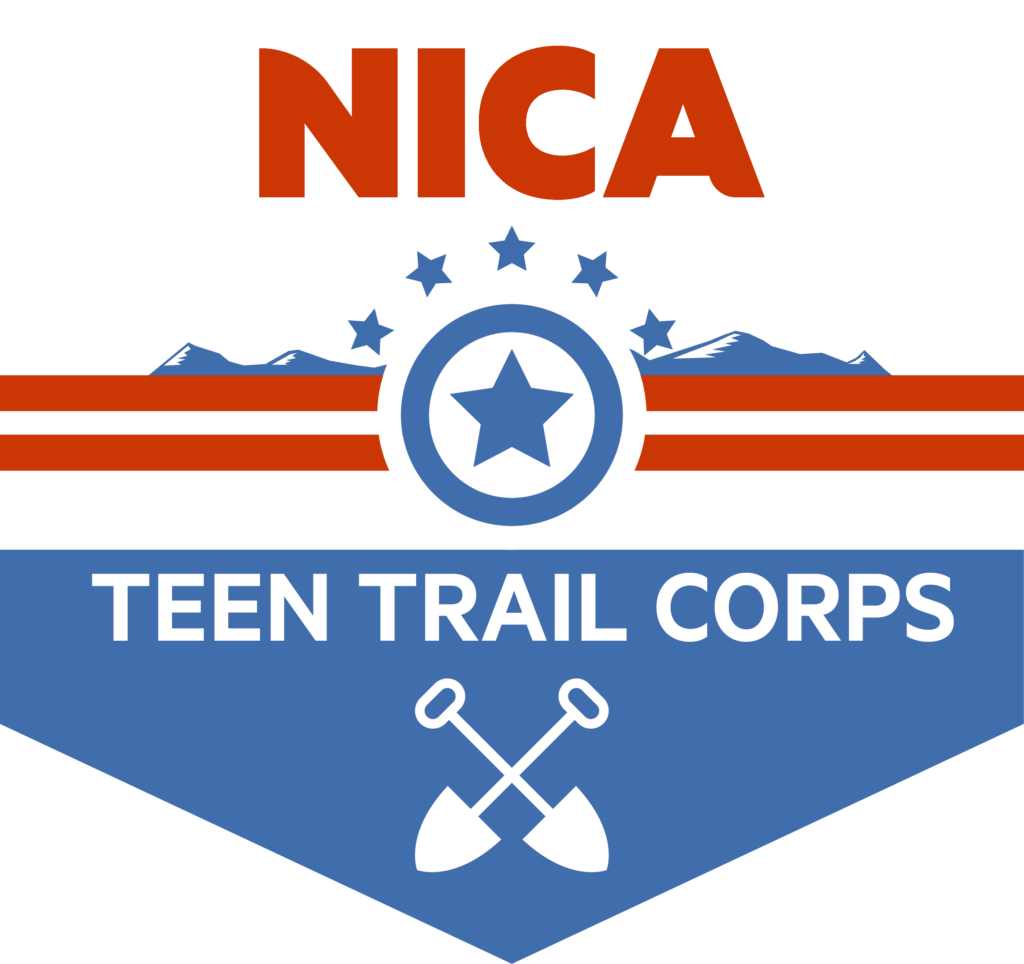 The Teen Trail Corps Program teaches student-athletes to give back to their sport by helping to maintain trails and develop relationships with land owners. Athletes can earn badges for stewarding or advocating for mountain biking in different ways.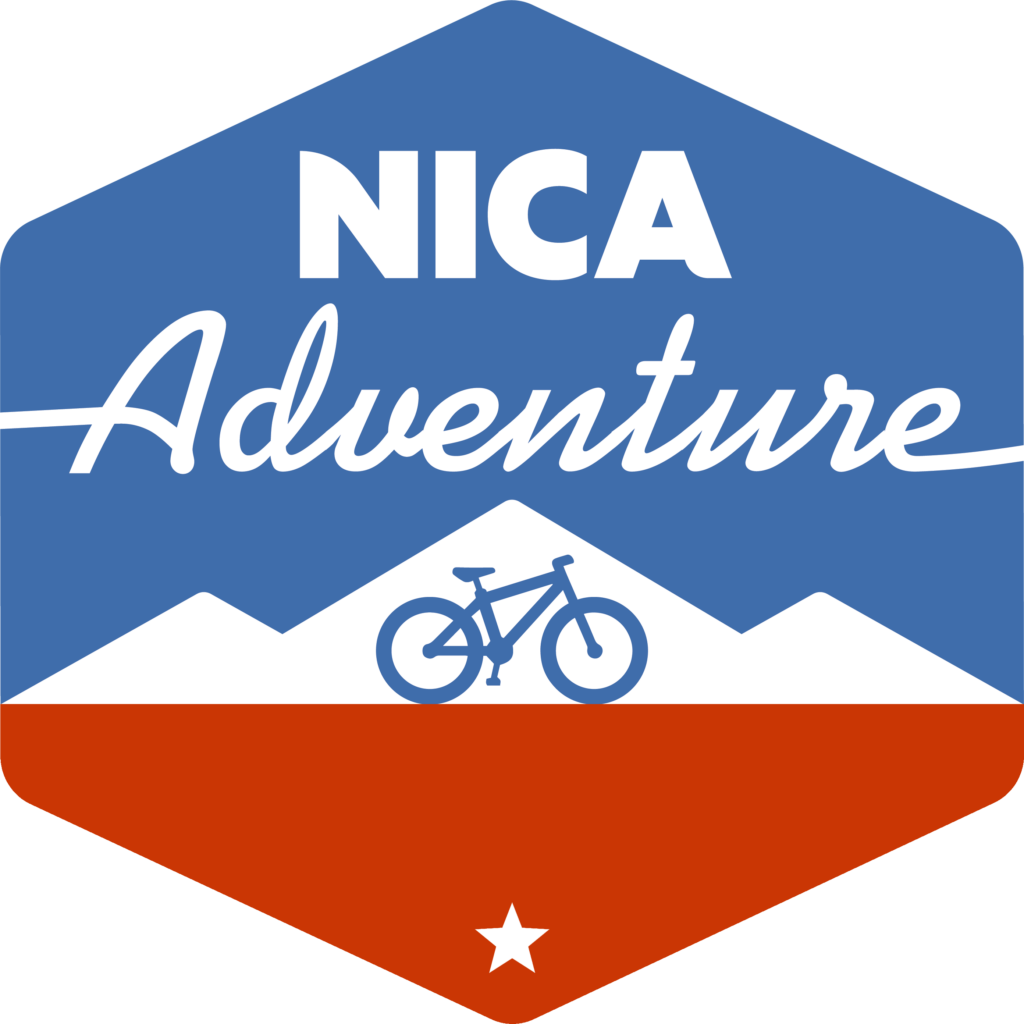 NICA Adventure programming helps students discover the joy of biking and outdoor adventures. We use games and experiential education to help students challenge themselves at their own pace and develop a lifelong love of cycling.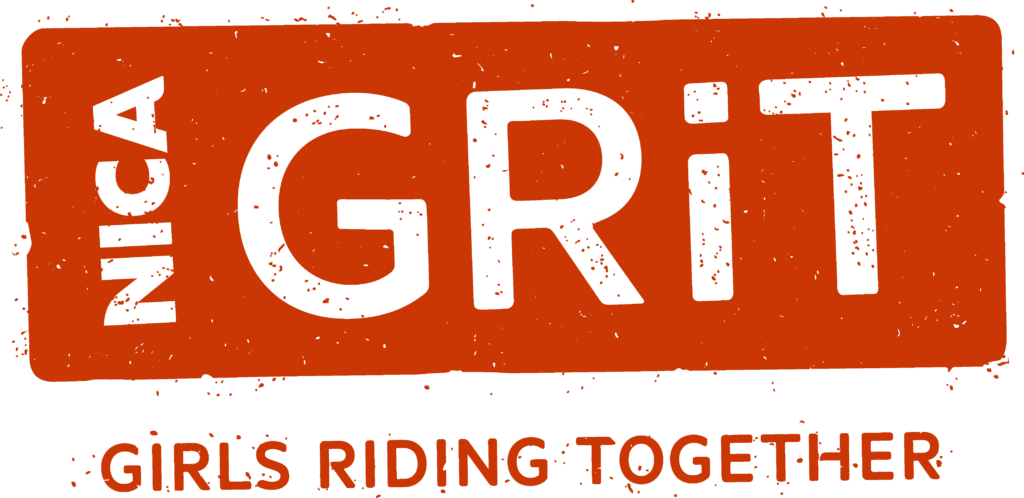 Girls Riding Together, a.k.a GRiT Texas is an outreach program focused on recruiting, developing, and retaining female athletes, coaches, ride leaders, and volunteers. GRiT Texas is part of the NICA National GRiT outreach program.