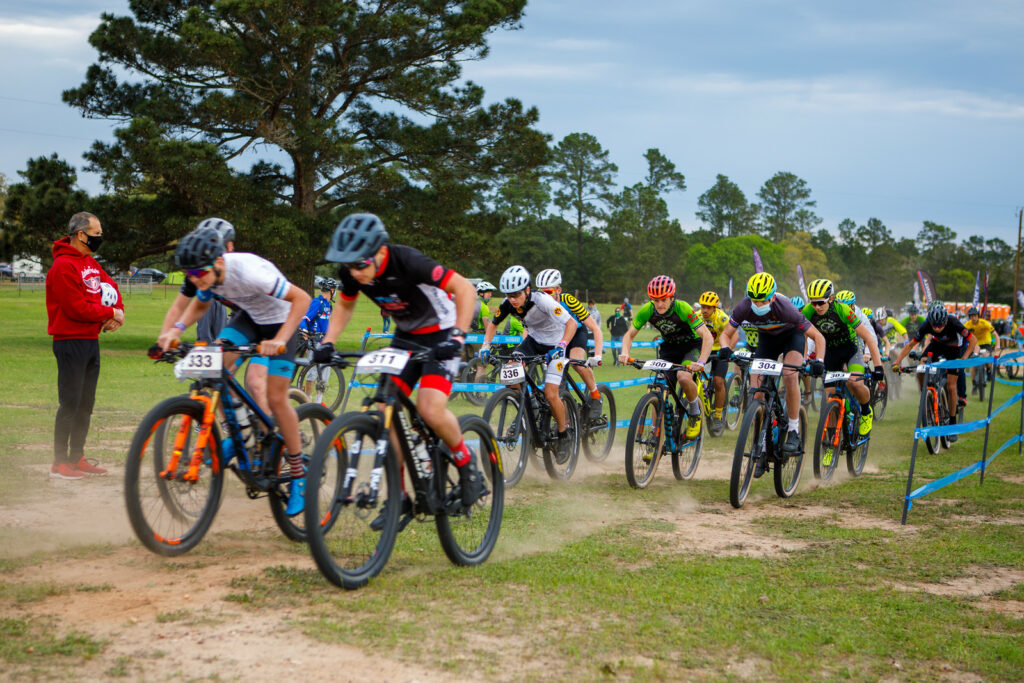 Season XII, the 2023 Texas Interscholastic Mountain Bike League season has officially begun, but it is not too late to join a team. Visit the teams page to find a team in your area to join the League and participate in our youth mountain bike races and programs. If you are already registered with a team, visit your Pit Zone account to register for races.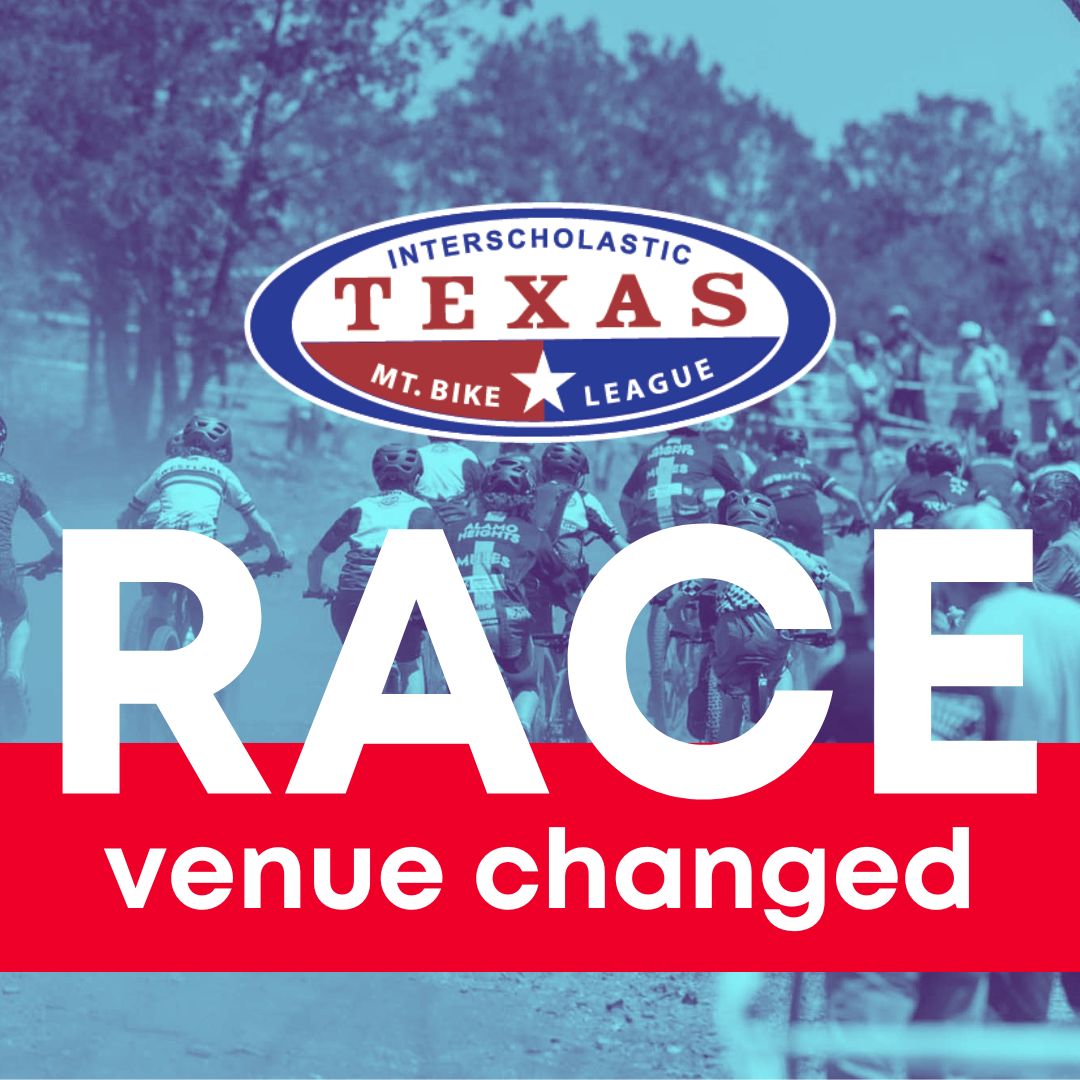 Reveille Peak Ranch
Burnet, Texas
The Enchanted at Erwin race has been relocated from Erwin Park in McKinney to Reveille Peak Ranch due to weather.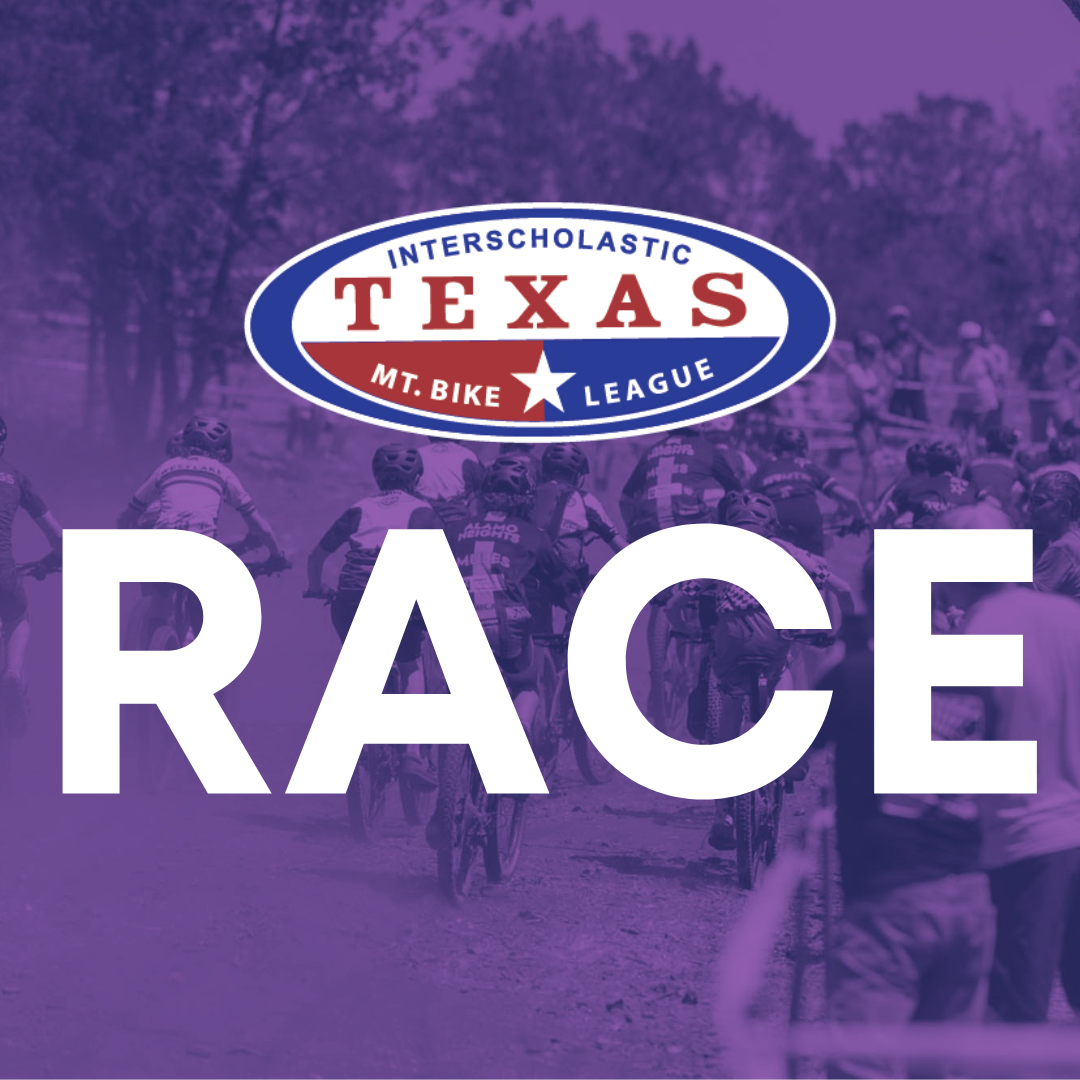 Bluff Creek Ranch
Warda, Texas
Save the Date for the sixth race of the 2023 Texas Interscholastic Mt. Bike League season.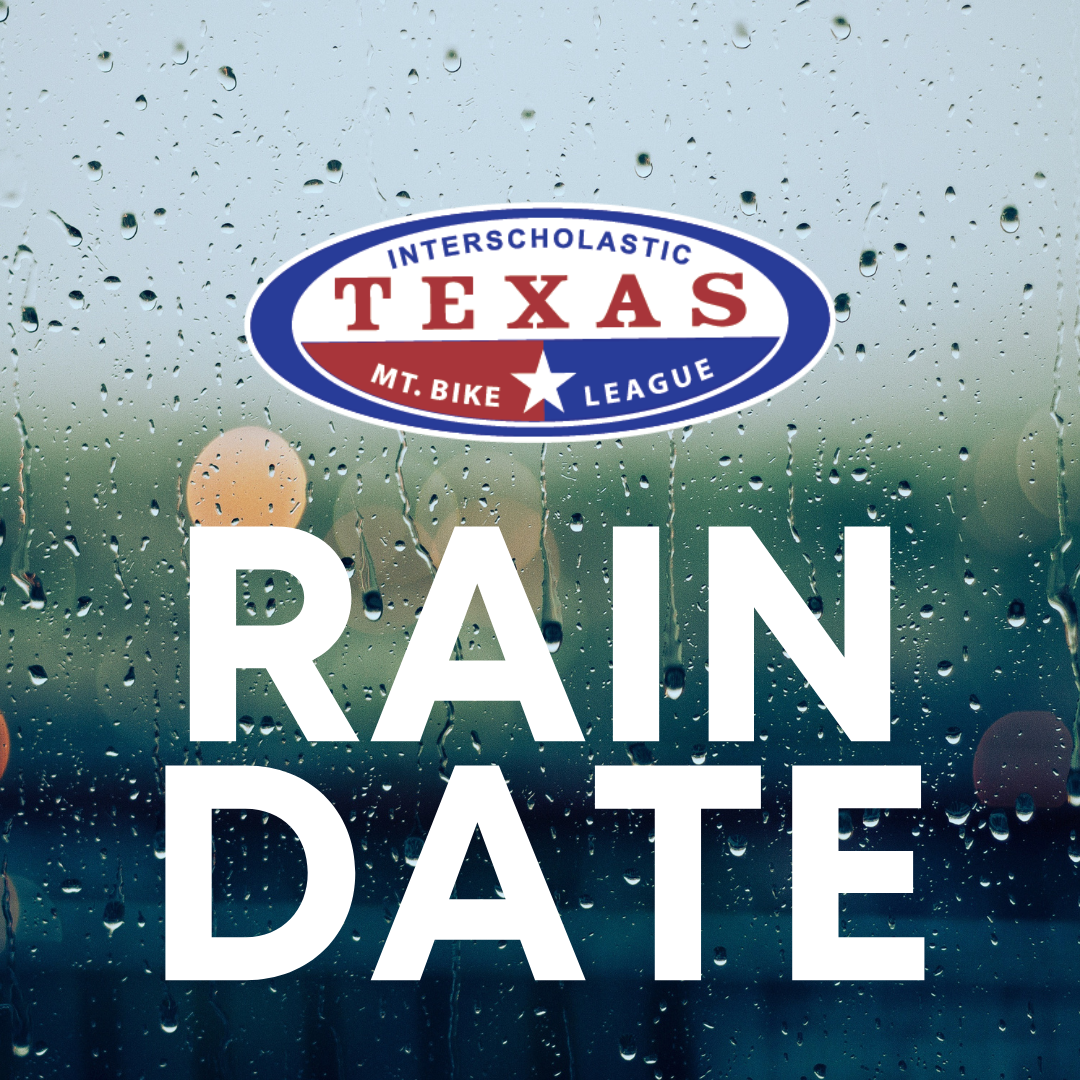 In the event that the state championship is rained out, it will be rescheduled to April 29-30.
Race Registration
Register with the League and your team in the NICA Pit Zone (our online registration system) or contact your team director.
Sign your waivers (from the Pit Zone).
Register for the race or races in Pit Zone.
Have questions about how to get involved?
Know a great race venue?
If you would like to see a League mountain bike race come to your area, please submit your request along with the name of the venue, contact name, and contact phone number.
Additional Race Details
Season Scoring

6-race Series:

Texas offers a 6-race series. The series winner for each conference will be determined by the best 4 out of 6 races. The overall series champion in each field and conference will be decided based on the total of series points accumulated (Best 4 of 6 results and inclusive of bonus points for completing 5 races). In other words, the lowest 2 scores are dropped. A missed race would be the lowest score dropped.

Race Cancellations:

In the case of a race cancellation in a six-race series, the series becomes a 5-race series. Scoring becomes best 4 out of 5. If a second race is cancelled, the series becomes a best 3 out of 4 series; the lowest score is still dropped (best 3 of 4). If there are fewer than four races in the series, no score will be dropped.

State Championship Points:

There will be no bonus points for the State Championship race. However, at the State Championship race, both conferences will be combined with call-ups determined by each athlete's series score total (top 4 races). Podiums will be awarded for the top 10 athletes in each category and will determine the athletes named as State Champions.

Points Bonus for Competing in All Races:

Student-athletes who complete 5 out of 6 races in a six races series shall be awarded an additional 25 Season Bonus Points after the final race of the season. In the event that one or more races are canceled, 25 Bonus Points will be awarded for completing all races. No additional points will be awarded for racing in a 6th race.

Team Scoring:

A team's overall placement is based on team point totals from the best five team finishes in a six-race series (lowest score is dropped). If one or more races are canceled, the overall score will be based on team point totals for the entire point series (lowest score is not dropped). Overall conference winners will be determined based on series points for each conference. State champion teams will be determined by the winners of the State Championship race.

Middle School Scoring:

Individual series awards will be given for middle-school students. Middle-school team awards will not be tracked or awarded.
Rules Update for 2023

Based on feedback from the Leader Summit, the Rules Committee has reviewed and amended a few rules to better accommodate our teams. Those amendments are summarized below. Please review the full 2023 NICA Handbook for more detailed information, including the Texas specific amendments. It is the responsibility of all teams and athletes to be familiar with the rules.

Composite Team Limits

Section 6.6.C.1 Amendment – Composite Team Limitations: High school Composite Teams are limited to a maximum of 20 student athletes.

The limit for composite teams has been raised from 11 to 20. When a team reaches 20 riders, the League Director will work with the Head Coach and Team Director to determine the best course of action for the team and the League.

State Championship Qualification Criteria

Athletes must participate in one regular season race (race 1-5) to be eligible to compete in the State Championships.

Call-ups

Call ups for the first race will be based upon the last season point totals. 6th graders will be random for the first race. JV2 category call-ups will be random for the first race. New riders to the League will be assigned a random call-up behind all returning riders. Subsequent race call ups will be based on the student athlete's overall points. This will be applied to both middle school and high school categories. Freshman riders will automatically be placed in JV2 but can petition for a higher category placement.
Race Duration Guidelines

Middle School
45 minutes

JV Girls and Boys
75-100 minutes

Varsity Girls and Boys
90-120 minutes

Student athletes are expected to be able to safely complete the course within the designated time limit. Athletes may be asked to withdraw and exit the course after cut-off time limits have been reached. Racers who do not make the time limit cut-off will still be scored and ranked.

League and race officials reserve the right to determine these time limits and alter them at any time. Time limits may be imposed or altered for reasons that include, but are not limited to, safety, heat, cold, rain, and muddy conditions.
Chip Timing

All riders will receive a permanent number plate with a chip timing transponder on the backside. Riders use the same plate for the entire race series. Please remove this number plate before transporting bikes to prevent loss.

Replacement number plates will be available at the registration tent for $10.00.
Category Placement Petitions

Race categories have been evaluated and assigned in Pit Zone. If you would like to petition to change an athlete's category, you must complete the form two weeks prior to any race for consideration.

No race day petitions will be accepted
Weather Policy

The League's primary considerations in assessing inclement weather plans are the safety of riders, staff and spectators, as well as the potential for damage to the venue and trails. Decisions regarding canceling, postponing or altering race start times, lap lengths, number of laps, etc. will be made jointly by league staff and the land manager. If inclement weather is predicted, we will make a decision about weather related cancellations by Thursday at 5:00 p.m. For more details about our inclement weather thresholds and cancellations, see the Weather Policy. 
NICA Handbook: Rules and Guidelines

All participants are required to read, understand and abide by all league policies, rules and protocols while attending any league event.

The handbook details important rules that should be followed at all races as well as any associated penalties or disciplinary actions that can be assessed against riders or teams for violations of the rules.

READ THE 2023 TEXAS SPECIFIC APPENDIX

LEAGUE RULES COMMITTEE PETITION FORM (Form will be available soon – Do not use this from for category placement petitions)
Safety Reporting and Insurance Coverage

Safety Reporting
Incident reports are mandatory whenever a student-athlete or coach is injured during a NICA activity. These incident reports are submitted by each team's Designated Reporter or an independent rider's parent. For more information on safety reporting please see our brochure here.

Insurance Coverage
NICA insurance coverage is for registered student-athletes and registered coaches injured while participating in the sanctioned pre-ride and race events. For more information on NICA Insurance Coverage, please see our FAQ here.