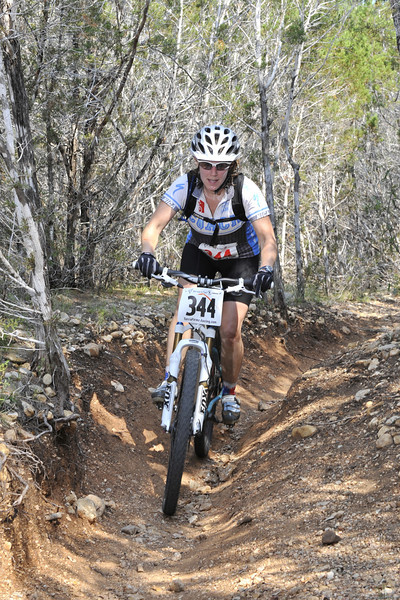 Name: Ali Wilkerson
Date of Birth: 5 October 1970
Hometown: Hexham, England
Currently Lives: College Station, TX
Occupation: Research Administrator and scientific writer/editor
Race Category: Cat 2 (mountain)
 Educational Background: BSc Zoology/Genetics, MSc Fisheries and Wildlife/Ecology and Environmental Biology
Athletic Background: I ran track and cross country in high school, and ran charity road races in college and for many years after that. I switched to mountain biking in 2004 and have been happily addicted to the sport ever since. I have raced everything from sprint mountain bike races to 24 hour races, and my current craze is adventure racing.
Favorite Training Ride: The ones that make me forget that I'm riding a bike and instead make me feel like I am flying through the trees – whilst singing. Ludacris or Pink. Loudly.
Favorite Pre-race Meal: Thai
Favorite Training Ride Snack: Nutella and jelly sandwiches
Best Race Experience: I attempted the 24 Hours of Dirt at Rocky Hill Ranch in 2009 and had to be yanked from the race (and from first place) by the medics after crashing and seriously damaging my thumb. I came back the next year determined to settle the score, won the race, AND turned in the fastest lap for my category. BOO-YAH.
Funniest Race Moment: Racing in a TMBRA race in Cameron Park in Waco, TX, passing a guy, and having him yell at me incredulously "you're a GIRL?!?!"
Favorite Bike Part: The rear derailleur. I ride single-speeds and geared bikes, so the rear derailleur makes me feel like I'm cheating.
Favorite Music: Whatever I happen to be singing at that moment with Kim Topp.
If you were an animal what would you be? A cheetah. Their whole body – legs, tail, eyes, tear tracks, heart, lungs, liver, nails – is built for speed. They are the fastest land animal, and they are the gentlest of the big cats.