Day 4 of camp brought us our first day of cloudy skies and cooler temperatures. The threat of rain loomed nearby. It was a welcome change however, since the hot sunny days were starting to feel a little too familiar. It was also a blessing because this day was different. Today the student athletes would get to challenge themselves against the clock for a time trial race up Telegraph Hill. Today's ride report is courtesy of Coach Ali Wilkerson of the A&M Consolidated Team.
Today no one got a ride to the trail head. We all rode our bikes from campus as a big group on Chakra trail, crossed the road, and made our way to Telegraph Hill. Today was time trial day! We thought that most of the student athletes would want to do the race, but it turned out that most did not. So we improvised and Sarah and Kim took a group to do some easier trails around campus for a fun recovery ride. We grabbed Paul to course marshal at a trail intersection and I rode up to a second point. That was about the time it started to rain, but it didn't last too long and didn't even soak the ground, so it wasn't anything to worry about. Chad Cheeney came up to help score and organize the festivities, along with Dave Hagen. The race was not official or promoted, but a few other locals showed up for the fun. The course was about two and a third miles long – all uphill. The first section is really loose and rocky, which slows you down and eats up all of your power. But then there is a break once you enter the meadow; and it smoothes out to give you a chance to recover or pick up the pace. At the end of the meadow the trail starts to become steeper, adding in switch backs and rock gardens, and getting still steeper all the time. By the time you get to the top and navigate a few ledges, you are wiped out.
It was great fun watching the student athletes battle it out on the way up, and getting to cheer them on. They were all working so hard; no one was smiling except for Alex Defily. He had a big smile on his face when he passed me! Coach Andrew came by toward the end of the group breathing, "This hurts so good".
Once everyone made it to the top, we joined them to devise a descending plan. We chose 2 different routes to give a longer and a shorter option. But surprisingly, everyone chose the longer route, just at different paces. The trails we took back in were very well built, high trafficked, but still super fun. It was a Desert Singletrack Extravaganza! These trails reminded me very much of the system around Lajitas, TX near Big Bend National Park. We ended up coming back through town and finally climbed up to the campus, barely making it to lunch before the cafeteria closed.
Interview with John Miller
What did you think about the ride today?
John: It was fun. We time-trialed up telegraph hill and did a long and fun descent. I love mountain biking!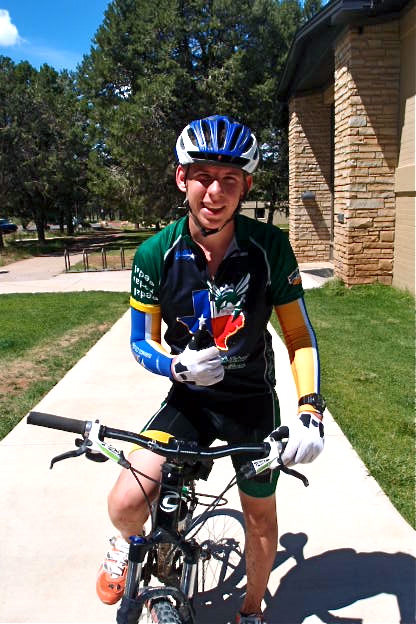 What did you learn on the ride today that you didn't know before?
John: I learned that climbing a hill under pressure is really hard. You want to go faster than you are able to, so you push yourself a little more, but then you wonder if you will make it so you back off. There is a fine line to finding that balance between the two.
What was your favorite part of the trail today?
John: My favorite part was Big Canyon Trail because it was a fast downhill and it was very flowy. There was this one wall ride turn that was super cool.
What was the most challenging part of the day?
John: It's always the climbing and trying to breathe in this altitude.
Do you miss your parents?
John: Kinda; no.
Who is your favorite Coach?
John: Chad is my favorite. He has the raddest beard ever. He is very good at cycling, and has a way with words. Meeting him has taught me that anything is possible; I can be anything I want in life. He really does have a cool beard though. I wanna grow a beard like that.
What do you like about Durango?
John: The town is super bike friendly. There are trails everywhere!
What do you like about Fort Lewis?
John: Its super centered around people's ideas and art. You can be whatever you want here. It's awesome.
Interview with Lily Kohles
What did you think about the ride today?
Lily: I didn't do the big time trial so it was nice and easy and chill. It was good to get a recovery ride day. We did a mini time trial near the pump track, and I went through the short course a lot of times to shave off some seconds. I kept getting a little faster each time, but then I got tired and my times slowed down.
What did you learn on the ride today that you didn't know before?
Lily: I learned that I need to watch out for rocks that are tall enough to clip my shoe and time my pedal strokes to avoid them. That happened to me today and it knocked me off balance. I would have fallen down a little cliff if Philip Romo wasn't there to catch me! It was a close call.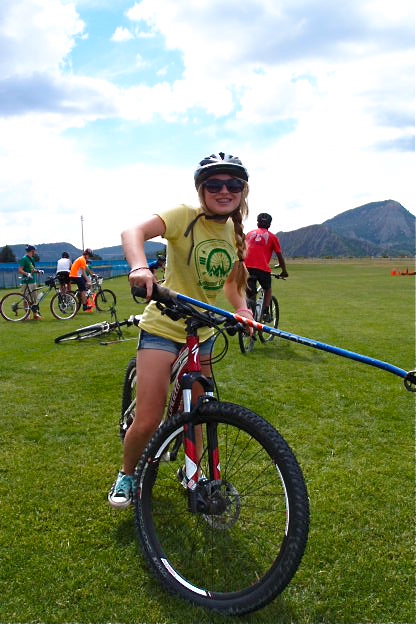 What was your favorite part of the trail today?
Lily: We played around campus today and did a lot of fun stuff. We rode on the pump track, practiced going down stairs around campus and popping our wheel over a little jump.
What was the most challenging part of the day?
Lily: Climbing the part of Rim Trail where the cliff is on the left and the hill is on the right. It's pretty narrow there. You can't look left or you might fall that way down the side of the hill.
Do you miss your parents?
Lily: Yeah I miss my parents.
Who is your favorite Coach?
Lily: My favorite coach is Kim, because she allows me to take breaks when I need them and she isn't too pushy. She is really cool to talk to and is understanding about how I don't like to climb that much. She says she doesn't like to climb either!
What do you like about Durango?
Lily: The scenery here is so beautiful. I like the small town feel and how everything is accessible by bike. My town of San Angelo doesn't have bike lanes and I don't feel safe riding around town on a bike like I do here.
What do you like about Fort Lewis?
Lily: The opportunities are good here. For instance, you can have a paying job on campus while still going to school to build experience for the real world. I like that it's a small school and a small campus. It seems like there would be more individual attention here.
After the morning ride the students changed clothes (barely any time for mid-day showers on these packed days!) and headed to lunch to refuel. Directly afterwards was an official campus walking tour that was hosted by the college. The students learned about all of the different areas of study the school has to offer, and became acquainted with the layout of the campus. The takeaway fun fact of the afternoon? The running track is made out of recycled plungers. Somewhere there is a really great joke about running fast and usedtoilet equipment that I just can't place at the moment…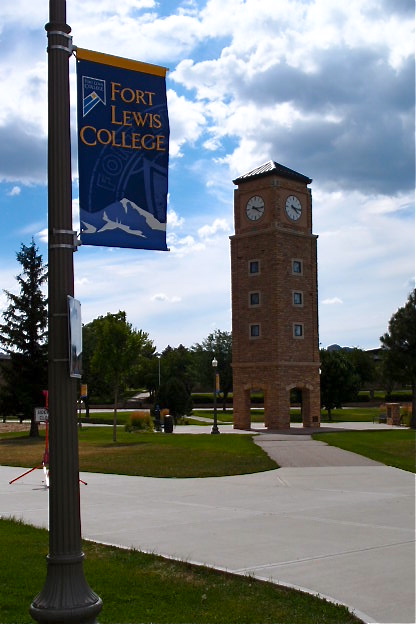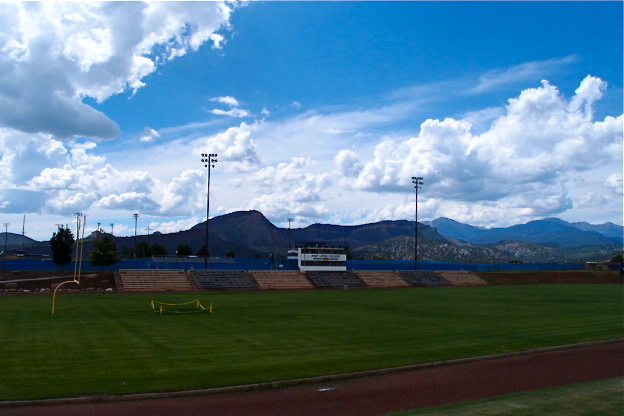 We enjoyed a few hours of an afternoon gap between activities that sent nearly the entire group downtown in the vans for a little downtown Durango exploring. Half of the group went to seek out local bike shops specifically, and the other half just went roaming around Main street for some general gift shopping. After all, we had been in town for 5 days already and we hadn't even seen the town itself yet! We were far too busy becoming awesome well-rounded mountain bikers for petty tourism.
Back on campus, adorned with bags of souvenir tshirts, novelty candy, and quirky racing socks, we had to hustle up to dinner before getting to talk to two Fort Lewis College cyclists not too much older than our own students about juggling racing and school. Lauren Catlin is a graduate of Drake High School in northern California (THE most adorned and accomplished high school mountain bike team in the USA) and currently a Junior at Fort Lewis college studying Biology. She is also an incredible champion bike racer in several disciplines (just check out her latest stats in the link in her name above). Talking to her you can tell that she is impressively focused, well-rounded, and genuinely enjoys the rich life that she has created for herself. For her, like many of our student athletes, it all started with an introduction to mountain biking through her local high school team.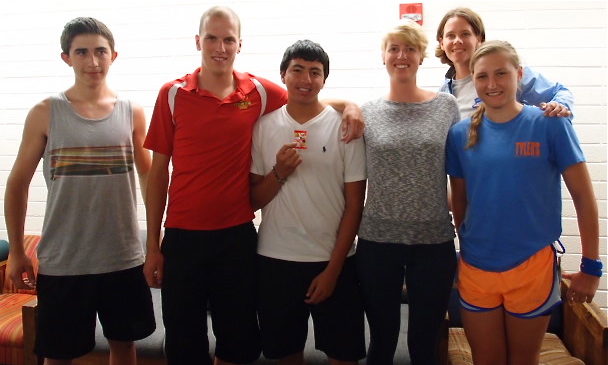 Ian Burnett is a graduate of Fort Lewis from just a couple of years ago, and already is established as a pro-cyclist and a coach to the college cycling team. He also was the only one to beat our very own Boone Flynn on the time trial earlier in the day. He provided insight into his role as student athlete-turned-coach and how much of his job entails helping students balance racing with other school priorities. Both parts of this kind of life can be quite demanding, and top cycling schools are looking for well-rounded athletes that are also good students, effective communicators, and represent the team and school in a professional manner. It is not enough to merely be fast on a bike. Both Ian and Lauren stressed the importance of finishing a college degree if bike racing becomes a priority and a potential career to anyone. Maintaining, balancing, and learning to excel in both disciplines gives invaluable life skills in time management and life balance, preparing you for a successful life no matter what the future may hold.