Before the 3rd day of camp had even started, League Director Vance McMurry prepared the student athletes the night before. The ride on this day would be the most challenging yet. For those that wanted to ride out, it would be at least a 25 mile day. That means it would take groups 1 and 2 about 3 full hours, and the 3rd group would get a 2 or 2.5 hour ride with a shuttle to and from the trail head in the van. They would need more water than previous rides, more snacks, and would need to pace themselves.
That morning, some of the student athletes had risen early to wash their bikes and check them over. Way to apply what you have learned! It was a proud moment for the coaches, to see them being diligent in preparing for the day's ride in the right ways. After the now well-worn morning routine of breakfast and getting ready for the day, they were off for another adventure in the colorful Colorado outback.
I caught up with Paul Garcia, League mechanic and camp ride lead, for the scoop when they returned. He had gone out fast and hard with the 1st group, riding there and back and STILL beating everyone else back to campus for lunch.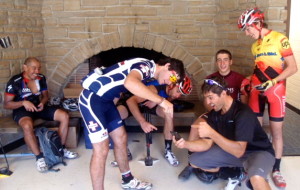 Today we rode part of the Colorado freakin Trail! It was a beautiful day once again in and around Durango, and we could tell it was going to be a hot one. I changed it up today and committed to keeping up with group 1. Besides myself, our group consisted of Chad Cheaney, Coach Andrew, Boone Flynn, Alex Ward, Alex Defily, Chad Bobbit, and Peter Drury. Leading the other groups were Coach Ali, Coach Kim, Vance, Sarah, Elke Brutstaert, and Anthony Diaz from Devo. My group and some of group 2 rode to the trail head from campus to get some extra miles in while the others got a ride in the van. Right off the bat, the front guys started off fast and the group spread out across the 4 or so miles to the next meeting point.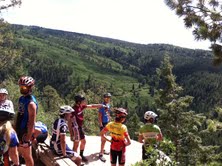 We regrouped where the trail head split to discuss the ride plans of the day, which started with – you guessed it – a lot of climbing. Once we started our way up, there was no slowing of the steady pace. This group is well matched and we all stayed together pretty much to the top of the smooth and steady climb to meet up with the Colorado Trail. Our highest point of the day was 8,114 feet above sea level (Fort Lewis College is 6,350). Once there, we paused to take in the views, have a snack, and snap some photos for proof of our superhuman feats.
Starting up again, we traversed a bit along some high trail, then everyone started ripping down the descent. I was holding on for dear life! Chad Cheaney and I moved toward the back to allow the students to open it up and let it all out. Much of the trail on the way down turned tightly around a threatening ridgeline, and was quite narrow. Chad Bobbitt had a near crash around a technical blind turn that hid some ledges. He had clipped out with one foot, his bars had flipped around, and his other foot got stuck in the pedal. He ended up hopping down along the trail to safety with his bike dragging behind him. It was a great save. Really one of the greatest skills to have as a mountain biker is knowing how to fall and how to catch yourself from turning an easy slip up to an really bad situation. Though maybe not the prettiest of moves, points for Chad on that one.
At the bottom of the mountain we took a river side trail back toward the college and met up with the road for the final bit. Those guys rode well today – they were killing it. And I was exhausted!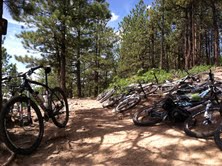 Interview with Peter Drury
What did you think about the ride today?
Peter: It was awesome. It was by far the hardest and longest ride all week, but still the most fun. The downhill at the end was worth all of the brutal climbing it took to get there.
What did you learn on the ride today that you didn't know before?
Peter: I have been learning all week just how bad it is to climb so much at altitude. I can't breathe up there!
What was your favorite part of the trail today?
Peter: Definitely the super knarly downhill trail. It was super narrow, rocky, and had blind corners just beside cliffs. There were some super sweet rollers and crazy rock gardens in the worst spots, which made it challenging.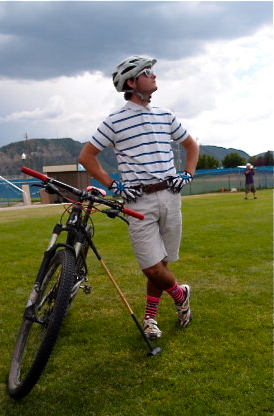 What was the most challenging part of the day?
Peter: the climbing is always most challenging. Today my knee was killing me all the way up.
Do you miss your parents?
Peter: Yes but no. I am about to shed a tear.
Who is your favorite Coach?
Peter: Andrew and the Chadster are my favorite. They are sick dudes, super knarly riders and it's fun to ride behind them. They teach me a lot.
What do you like about Durango?
Peter: All the trails are super buff and the climbs are super haggard. I like that it's not flat; where I live in Dallas is super flat. There may be only about 100 ft of elevation in a ride, whereas here there is thousands.
What do you like about Fort Lewis?
Peter: the dorms are sweet. I like the food in the cafeteria and all of the coaches are awesome…and I am coming here for college.
Peter wanted to express some last words at the conclusion of his interview.
Peter: I know I'm awesome. Sweet whips.
Though I am not entirely sure what it all means, I believe the spirit of it all implies that he had a great time on the ride today and was still feeling the effects of that excitement when I caught up to him to chat.
Interview with Catherine Canby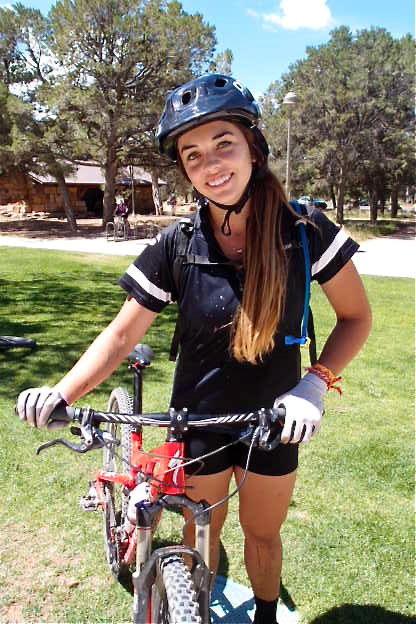 What did you think about the ride today?
Catherine: I had a hard time on the uphill section, I would have stopped if Vance wasn't behind me telling me to find a happy place. Apparently his happy place is thinking about unicorns with lasers. I thought I was going to die on that climb; I didn't think I could make it all the way up. I am a good technical climber, but this sustained smooth climbing is so hard. It was so worth it for the downhill that came after though, I would do it again for that part!
What did you learn on the ride today that you didn't know before?
Catherine: I learned that I can keep going when I don't think I can. That I can push myself a little more. I actually thought of Estzer riding that divide race while I was climbing today. I reminded myself that this was nothing compared to that; I can do this.
What was your favorite part of the trail today?
Catherine: The downhill section! The terrain on it was great and the turns were more tacky. There were some roots and rocks that made it so fun.
What was the most challenging part of the day?
Catherine: The uphill section was the hardest. Not the last one, but the one before that. The one that was just a sustained climb with no technical features in the way to keep it interesting.
Do you miss your parents?
Catherine: Not really. I have only talked to them once since I have been here. They probably miss me though, because I haven't been home much all summer.
Who is your favorite Coach?
Catherine: Andrew is my favorite; he is so inspirational . He believes in me more than other people sometimes and he makes me feel confident in my riding abilities. He knows my limits and he pushes me to do better. Plus he is fun to be around and is always ready to ride. His enthusiasm rubs off on me.
What do you like about Durango?
Catherine: I love the trails! Especially the downhill trails. I like the climbs too, because you can't get that kind of elevation gain in Austin. It's great to be in a different environment like this; to come here and challenge yourself in a different way.
What do you like about Fort Lewis?
Catherine: I like the location, the scenery on campus, and the instant access of so many bike trails. I like that you can bike everywhere; it seems like a very bike friendly place.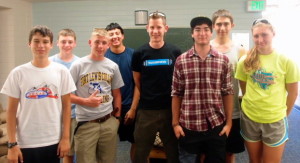 After lunch, there were two Q&A sessions with mountain bike pros that both graduated from Fort Lewis College and still reside in Durango. The first was German-born Ben Sonntag, Nordic skier turned world class mountain biker. We collected in the dorm common room to soak up the incredible knowledge he had for us about training, being a well-rounded athlete, and about the importance of making it through college to have something to fall back on if cycling doesn't work out the way you might want it to.
The next pro that visited us was 3 time Olympian and top international champion (with too many big wins to mention) Todd Wells. We all moved out to a shady spot outside in the grass to change up the scenery and gathered around him like Indians around a totem pole. He let us into his world of how he got to where he is today, what he eats before a race, and how his training regimen works. Despite how famous he is in the world of cycling (he even has his own Wikipedia page), he was very down to earth and easy to talk to.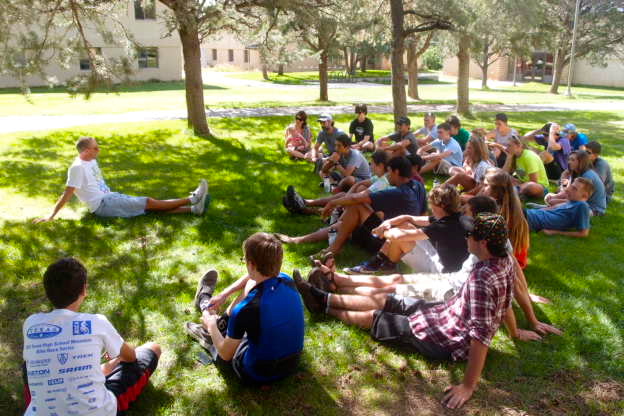 Though we had an hour set up to visit with Todd, it seemed to end too soon. We all had places to be after all! The Durango Devos were about to start their mini Shocker Enduro race on the other side of the street and we had riders that wanted to enter. We headed over there for a taste of a real (though short) Colorado downhill mountain bike race. The course was steep, had short and tight switchbacks, and a couple of technical drops. After a few practice runs, the race had begun! Each rider went down the course separately – the A group got best out of 3 runs, and the girls and B group got best out of 2. A group of us perched ourselves near one of the drops to cheer on our fellow student athletes as they made their way down. Though there were a handful of local riders that came out to race, it seemed as though we populated the majority of the spots. It was super fun to get to be a part of the event and great experience for our student athletes. Results can be found here.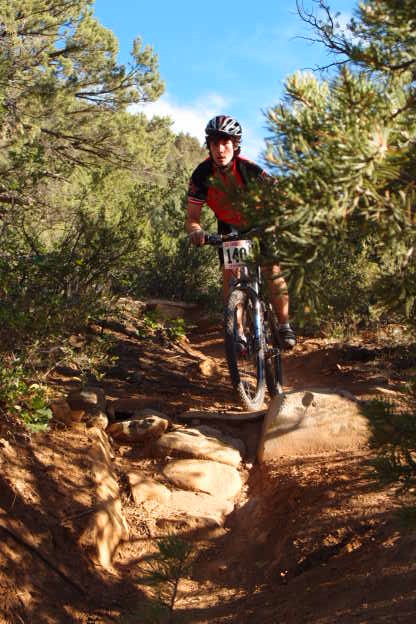 With the long day full of back to back activities, we missed out on dinner on campus and decided to pile into the vans and have a proper taco dinner at Zia Taqueria. Back at the dorms to wind down the evening, we discussed what we had all learned that day. One of the student athletes learned that it takes a lot of hard work and dedication to be a professional bike racer. Megan Gautreaux had learned that she can do more than she thought she could on the bike during her morning ride. Philip Romo learned about finding a rhythm to settle into while hashing out those long climbs up the mountain. Someone else commented on the extraordinary confidence and skill of the local downhill guys that we saw during the endure race.
But the unanimous lesson of the day? Eat rice in the morning before training or racing! That seemed to be a pattern with both pros and certainly resonated with the student athletes as part of a recipe for success in the sport. Rice cookers all around for Christmas presents, parents. These kids are cooking up a storm.
Erin O'Neill Garcia