Tuesday morning of camp brought us yet another beautiful day in paradise. The air was clear, there wasn't a cloud in the sky, and the cool mountain air was quickly warming up. The campers started their morning routine of waking up, suiting up, and getting to breakfast by 7am. In the next hour, they were all back and gathering bikes and gear for the ride of the day. Today's ride report comes from Coach Kim Topps from the A&M Consolidated team.
The ride today was an adventure and seems to be everyone's favorite so far. The trail head was a little further away than the one yesterday, so we all rode our bikes on the road to get out there. It was only a few miles, and there were some gradual down hills that were super fun for the students. I don't think that some of them had ever gone that fast of the bike before. They were very excited about the speed!
Once we got to the trail head, we split up into 3 groups to better accommodate the different skill levels of the students. We had a lot more expert local help today to make that possible. Elke, Sarah, myself, and Paul were in the 3rd group. A small group of Fort Lewis College cyclists, Estzer Horanyi (Tour of the Divide current women's record holder), Scott_____, and Anthony Diaz (Texas native turned Durango pro downhill racer) also joined us today to help with the other two groups.
Our group studied the map before setting out, and we knew immediately that we didn't want to do the entire route for the day. We chose a jeep road climb rather than the longer and windier single-track trail for the first climb before meeting up with the other groups. Everyone's legs were pretty tired and heavy from yesterday's ride so we took our time, and made little goals for ourselves to stop in the shady spots along the way for breaks. The trail was more exposed than what we were riding yesterday, and we could feel the heat start to boil, so this plan worked out great for us.
I would have to say that the star of the day would be Betty Rodriguez. She was doing a great job climbing today! Just motoring up and outdoing the rest of us. She seemed to have a little bit more in her tank than we did. Once we all reached the top of our climb, we caught sight of the 1st group coming from a higher part of the trail. We stopped to watch them rip past us down the side of the mountain. They were going so fast! Once they had passed, we followed them down on the roller coaster trail back towards the road. This was by far everyone's favorite part of the day. Not only was this trail in a wooded area that provided some much appreciated shade, but the descending gave us a great breeze as well. At first I was a little nervous about how the students would feel on this section. The turns were a bit more technical and looked difficult to me. But to my surprise, they all rocked it and had so much fun! The best part of my day was seeing their faces as they whizzed by me in a cloud of dust and smiles. Making it to the bottom, the students piled into the van and hopped a ride back to the college in air-conditioning and pure luxury.
Interview with Michael Luna-Hodges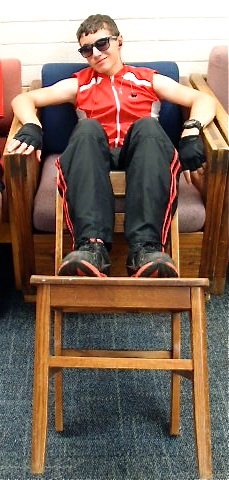 What did you think about the ride today?
Michael: It was awesome. It was epic and super fun.
What did you learn during the ride today that you didn't know before?
Michael: I really didn't learn anything new from yesterday. it was a refresher from our first ride in climbing and descending mostly.
What was your favorite part of the trail and why?
Michael: Toward the end of the trail it was like a roller coaster, and it was awesome to ride. There were a lot of steep slopes and up and downs.
What was the most challenging part of the day?
Michael: the hardest part were the climbs. There were a lot of loose rocks and it was steep for a long time.
Do you miss your parents?
Michael: To be honest, not really.
Who is your favorite coach?
Michael: Coach Ali is my favorite: she is awesome. She has taught me some things since we have been here that I didn't know before and has pushed me through some climbs by encouraging me to keep going.
What do you like about Durango?
Michael: The views. Definitely the views.
What do you like about Fort Lewis College?
Michael: The food in the cafeteria is pretty good. The college campus looks like a cool place to be. I like how they have a mtb team here. I will definitely take that into consideration when looking for colleges to attend.
Interview with Summer Bewick
What did you think about the ride today?
Summer: I want to say that it was a really hard ride, but it wasn't really; I was just really sore from yesterday. It was still really fun though.
What did you learn during the ride today that you didn't know before?
Summer: That I have to pace myself a lot better than I have been to make it up these long climbs. I have to learn to just keep going.
What was your favorite part of the trail and why?
Summer: the best part was definitely the downhill roller coaster trail when we were coming back down. There were some sidewall turns and some switchbacks. it was really fun.
What was the most challenging part of the day?
Summer: It was really tough towards the top of the climb. It was hard to keep myself going on the bike without calling it quits.
Did you take any spills today?
Summer: I didn't! I was one of the only girls that didn't today actually. I did have a close call on a downhill and almost ran into the girl in front of me, but I put my feet down to slow and catch myself before anything bad happened.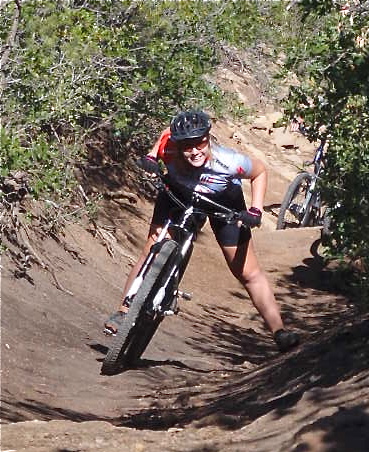 Do you miss your parents?
Summer: yeah, I do. I don't know what I'm going to do when they leave me on my own in the real world.
Who is your favorite coach?
Summer: I don't really have a favorite; there is something that I like about everyone. Ali is really mellow about things and Kim is really upbeat and full of encouragement. Paul is more to the point and tells me how it is – this is gonna hurt but you just gotta do it.
What do you like about Durango?
Summer: It's so gorgeous here. The trails are amazing, even though I can't ride them very well yet. It's a really big change from home; something completely different.
What do you like about Fort Lewis College?
Summer: The campus is really pretty, and they take good care of the grounds. Everyone that I have met is really positive and really cool.
The best Summer quote of the day I overheard as she was telling someone about a text to her parents that included a photo of the surrounding mountains at the top of a climb. She had sent the photo with some text that exclaimed, "Enjoy this view, because we sure earned it!"
After everyone got a good meal in them down at the Student Union, we all enjoyed a few hours of free time. Some chose to relax at the dorms, a group went down to the river for a swim , and some even found the energy to practice on the nearby pump track. At about 4pm it was time for some life lessons from Chad Cheeney, one of the founders of the Durango Devos. Rather than sit inside under the fluorescents, or sit in one place at all, this recipe called for bicycles and helmets. Sprinkle in a brief tour of the campus grounds, and add a dash of stopping here and there to discuss being a lifelong athlete or a responsible steward of the environment. At one point they all laid in a large soft grassy spot and looked up at the blue sky overhead, contemplating inner peace and happiness in one's life.  Once the more serious discussions had been properly covered, it was time for a little game of bike tag! The game works just like regular tag, except everyone is on bikes. This sneaks in practicing key skills like agility, balance, and firing those muscles quickly when trying to duck and dash away from close fingertips.
I met up with the group at dinner once they were done, and I could tell that Chad had really reached some of them with his zen-like wisdom when I asked them how it all went. It was exciting to see them so engaged in such an enlightening experience, and I thought to myself as I often do when involved with the Texas Mtb League, 'Man, I wish I had this when I was a kid." It has surely been a daily recurring thought this week!
After dinner there was one last item on the agenda, that thankfully, did not involve any moving around at all. It had been such a long day for us all and I could see the fatigue on everyone's faces. We all trekked over to a different building to a small auditorium to watch the film Ride the Divide, which is about the Tour Divide mountain bike race. The race has been called the toughest mountain bike race in the world, and it starts in Canada, following the spine of the Continental Divide all the way down to the finish at the Mexico border. While the film is well done and incredibly inspiring, the real treat of the evening was that we were joined by the current women's record holder of the race, Estzer Horanyi. It took her just 19 days of riding about 18 hours a day to complete the course. After the film, she answered all of the questions we could think of about how she accomplishes such a massive feat. She gave us invaluable insight on what and how she eats, how she trains, and what she thinks about to keep herself going for such a long time.
So, how does she do it? A few hours at a time. She says she can't think about how much farther she has to go in the entire race, or even the following day. She sets little goals for herself – 2 hours until the next meal break; 1 hour until the next town. And from that little bit of wisdom, we get our lesson of the day. In life and in cycling, it's important to set goals and then see them through. No matter how large or how small. Even if it's to the next shady spot on a climb, or to the next wildflower. Ride to that wildflower.