The official first day of our fabulously fun 2013 Fort Lewis Summer Camp started out early, and the crisp mountain air drifting in through the open windows made it just a little tough to get out of bed. The students were up by 6:30am on this clear and sunny day, dressed and walking over to breakfast at the Student Union, across the street, for breakfast by 7. They must be used to the scheduled meals cafeteria-style from being in high school, because they file in, eat, and file back out like pros.
Back at the dorm, it was time to gear up, check the bikes, and then set out for the first of many long and challenging mornings on the trails just behind campus. Today's adventure was to climb Telegraph Hill. Since your faithful author did not get to go along, I got a great race report from Coach Andrew later that day on the happenings of the ride.
The morning was buzzing with excitement and nervousness. It was the students' first day riding in the mountains for the week, and for some the first day ever. Led by Sarah Tescher, the Co-Founder of the Durango Devo's, Elke Brutsaert, Women's and Strength and Conditioning Coach, and Dave Hagen, Director of the Fort Lewis Cycling Team as our guides, along with myself, Vance, Paul (handy league mechanic), and Coaches Ali and Kim, we all started off as one large group. It was a casual warm up ride to the bottom of the first big climb. We stopped briefly to regroup at the bottom…and then up we went. Hello Colorado!
The first part of the climb was a fire road and just a taste of what was to come. After that first leg, we stopped again and gathered around to listen to Elke give a few pointers on climbing skills. The next part of Telegraph Hill narrowed out to single track and was considerably steeper. That's when things got real. Some of the faster kids couldn't contain their excitement and went charging up the trail with the best of intentions. At the top, they found out why that wasn't such a good idea! Exhausted, out of breath, and oxygen starved, they nearly collapsed at the top. But as the others paced themselves to make their way up, the early arrivers all stood on either side of the trail and cheered them on as they conquered that climb one by one.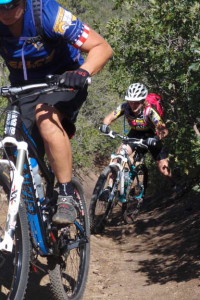 We regrouped then, turned to check out the already amazing views we had just achieved, breathed in the sweet smell of sage in the air, and had a snack.
After what felt like a lot of climbing, it was finally time to descend a bit. We split up into two groups (we will call them A and B) and chose 2 descents that paralleled each other. I went with the A group – our descent was rockier and ledgier and included some climbing at the very bottom. Everyone loved it and at the bottom there were wide smiles all around. It was certainly exhilarating!
The two groups looped around on a couple more trails and then met back up on the lower Meadow Loop; by this time we were all tired, hot, and thinking about lunch. We enjoyed a nice leisurely 20 minute ride back to camp, feeling elated and acco
mplished for the day. And it wasn't even noon yet.
I had walked in just as the students had put all of the bikes away in the basement and had settled in the common room of the dorm. The energy in the room was incredible – everyone was either lounged way down in a chair or sprawled on the floor. Only one or two were talking; the rest were a bit dazed. They were gulping down water, faces red, and utterly exhausted. I felt a pang of jealousy for the incredible adventure they had just embarked on together. That morning they had left camp as just a bunch of Texas Student Athletes. But this group before me came back an experienced crew of climbing Colorado mountain bikers. They had all found new limits today within themselves. Andrew proclaimed they were now "No Limit Souljas" in the making.
I asked Andrew what the best part of his day was. Without hesitation, he said; as they were riding back in on the final stretch of trail before reaching campus, Student Athlete Alex Defily rode up beside him grinning ear to ear and proclaimed proudly, "Man this was the most fun I have ever had on a bike." And that is exactly what makes it all worth it.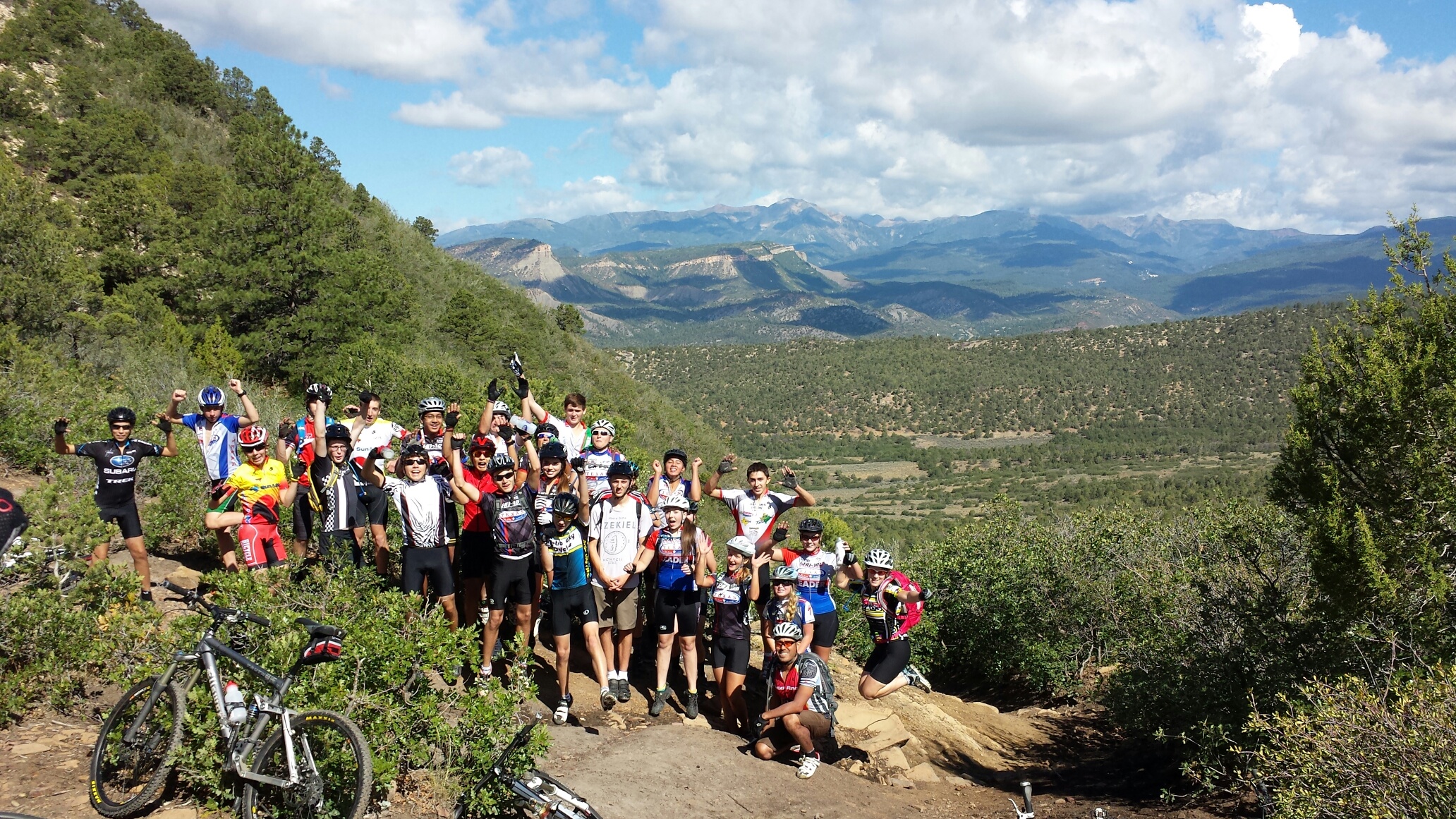 We later caught up with Student Athletes Alex Defily, Highland Lakes Composite, and Katelyn Pervis, Lake Travis HS, and was able to get an interview with them:
Interview with Alex Defily
What did you think about the ride today?
Alex: it was really cool. Tough, but really fun. Probably my best ride ever!
What did you learn on the ride today that you didn't know before?
Alex: I learned a lot about climbing skills. Technics for climbing on steep trails, how to lean my bike, and how to position my feet while climbing and turning.
What was your favorite part of the trail today?
Alex: After Telegraph Hill at the top when we split up and then descended. That was the most fun of the day. It was super smooth and "flowy" with lots of turns. There were rocks at the top and then it smoothed out on the bottom.
What was the most challenging part of the day?
Alex: Definitely the climb up the mountain. I could tell the difference in oxygen as I made my way up for sure.
Do you miss your parents?
Alex: I think they would like to be here too, riding these trails. But it's kinda cool to be here on my own.
Who is your favorite coach?
Alex: Dave is really good, I like him.
What do you like about Durango?
Alex: It's really cool here. The mountains are so close and everywhere. The town is really remote.
What do you like about Fort Lewis College?
Alex: I like that its a pretty small school. You don't have to drive to any trails from here, they are easily accessible by bike right from campus.

Interview with Katelyn Pervis
What did you think about the ride today?
Katelyn: It was fun. The first half I rode with the girls and that was ok, except that Abby was kicking my butt. But then I went down a big descent and caught up with the boys group. The guys don't complain about anything, they just ride. So that was fun.
What did you learn on the ride today that you didn't know before?
Katelyn: That I should probably train for mtb camps, and that there is no real way to prepare yourself for the change in altitude.
What was your favorite part of the trail today?
Katelyn: That big descent that we did. It was new and different from any trail I have ridden before. It was super fun!
What was the most challenging part of the day?
Katelyn: Keeping up with the boys.
Do you miss your parents?
Katelyn: Not really. I am having too much fun to be thinking about that. Isn't this a summer-long camp?
Who is your favorite Coach?
Katelyn: Coach Elke, she's cool. Very hands on and understanding. She is very much like 'let's all figure this out together' and that really helps me.
What do you like about Durango?
Katelyn: How many sentences do I get for my answer? The environment; the mass array of killer trails; everything.
What do you like about Fort Lewis?
Katelyn: It's a really clean campus. And how awesome is it to go right outside your door and have all of these awesome trails to ride on!
After the Telegraph Trail ride, League Director, Vance McMurry chatted with the students for a minute before we all broke for lunch. Everyone ate ravenously, having properly earned the meal. After lunch there were two presentations on the schedule – the first was Bike Maintenance 101 with a pro mechanic and local bike shop owner, Tom Neb of San Juan Cycles. It was a huge honor to have him there in the flesh in front of us.  Tom was a professional mechanic for the Giant Team. He was at the 2012 Olympics in London last year, and he has been all over the world working for the best mountain bike athletes. We all gathered under the shade of a few pine trees in the grass with our bikes. He showed the group how to properly clean a bicycle thoroughly.  Most importantly, showed us that it's not as difficult and as intimidating as it seems. He also talked about how to check the bike over for any loose or aging parts before a ride. He reminded us that a clean and properly lubed bike will last longer and cost less money in the long run in maintenance and ride faster and smoother on the trails.
Shortly after our talk with Tom, the group split up into two groups. One stayed at camp and worked on basic mountain bike drills with Vance. It was a great opportunity to refresh on the most important aspects of riding – the attack position, turning and braking. Repetition of these skills is the best way to master them, and there is always room for improvement. The other group took a leisure trip down to the Animas River in town.  Splitting up in a group riding down and a group in the van. The mountain water was freezing, but so refreshing in the now hot sun of the day and after a long morning of riding.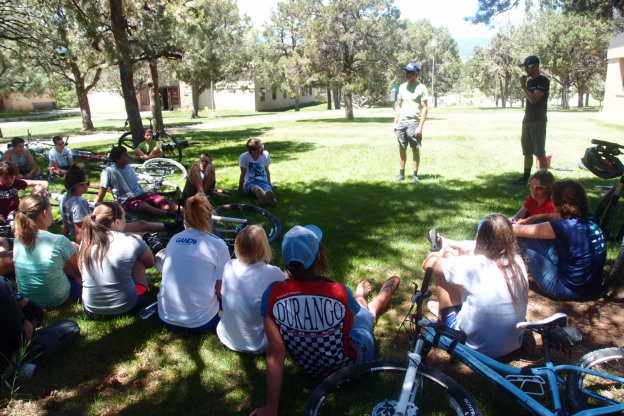 Next on the agenda – Dinner. We all filed into the Student Union for nourishment before the last talk of the day. This one sent us on a walk to the other side of campus to the athletics department. We met with Elke Brutsaert in a workout room for an incredible talk about conditioning for cyclists.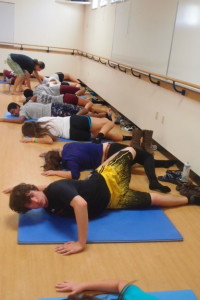 Elke has experience being a pro-downhill rider for 10 years, following by 10 years of study and practice in massage and body work. She has been on both sides of the fence in this regard and understands the importance of keeping the body in good working order and proper balance. She taught us that while cycling is great for our bodies in a cardiovascular sense, just like any other sport the repetition of being in essentially the same position so much can have lasting effects like pain and shortened muscles and tendons. For instance, the position we are in riding bikes is very much like the everyday common positions of being on a computer, looking at a smartphone, or even driving a car. The shoulders slump forward, the neck juts out, the core softens, and the hips tilt forward. Nearly all of us are guilty of this posture at least some of the time. So Elke taught us some wonderful (and quite painful) active stretches and exercises to undo the damage done by this constant positioning, having us open up the front of our bodies and engage muscles that aren't used to being fired. As we tried to settle into each one on our mats on the floor, unanimous groans spread around the room, followed by chuckles at how everyone felt the same aches and pains in their bodies. There was so much valuable take home information from both sessions today, and in a way, they are very similar to each other. Both were about preventative maintenance and taking care of all of the moving parts that are involved in cycling.
It was twilight as we were walking back across campus, and the sun was still shining on the mountain ridge behind the school. We walked back to the dorm and had about an hour of free time for last minute bike repairs, showers, and card games before hitting the sack. Tomorrow is another day of riding and learning and everyone needed all of the rest they could get.
Erin O'Neill Garcia